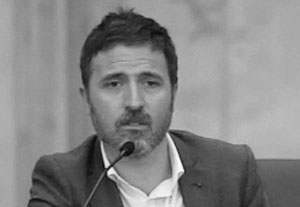 João G. Pereira is the Clinical Director of Romão de Sousa Foundation and the Therapeutic Community "Casa de Alba" in Portugal. He holds a Doctorate in Psychotherapy by Middlesex University, following several years in the UK National Health Service developing and researching therapeutic programs.
He is a Chartered Member of the British Psychological Society (BPS), accredited by the British Psychoanalytic Council as MBT Therapist, a Registered Psychotherapist with the United Kingdom Council for Psychotherapy (UKCP) and has been awarded the European Certificate of Psychotherapy by the EAP. He is interested in understanding what goes on in developing and sustaining therapeutic relationships and in the intersection between psychoanalysis, philosophy and neuroscience. He was Senior Lecturer at Évora University, and has taught regularly at Metanoia Institute, University of East London and other Universities.
He is staff member of the International Network of Living Learning Experiences, member of the "International Collective" at the International Network of Democratic Therapeutic Communities (INDTC) and a keen developer of Open Dialogue services and philosophy, collaborating with international research teams. He sits on the Editorial Advisory Board for the Journal "Therapeutic Communities", from Emerald Publishing and on other mental health related publications. João is the author and editor of several mental health publications. He co-edited and authored the recently published books "Schizophrenia and Common Sense" by Springer-Nature and "The Neurobiology-Psychotherapy-Pharmacology Intervention Triangle" by Vernon Press.